Features:
Create the ideal indoor learning environment
The indoor classroom is not just a place of instruction; it's a space where young minds are nurtured, dreams are ignited, and futures are shaped. It's where educators inspire and students thrive, laying the foundation for a lifetime of learning. Create your ideal indoor classroom and let the journey of exploration and knowledge begin.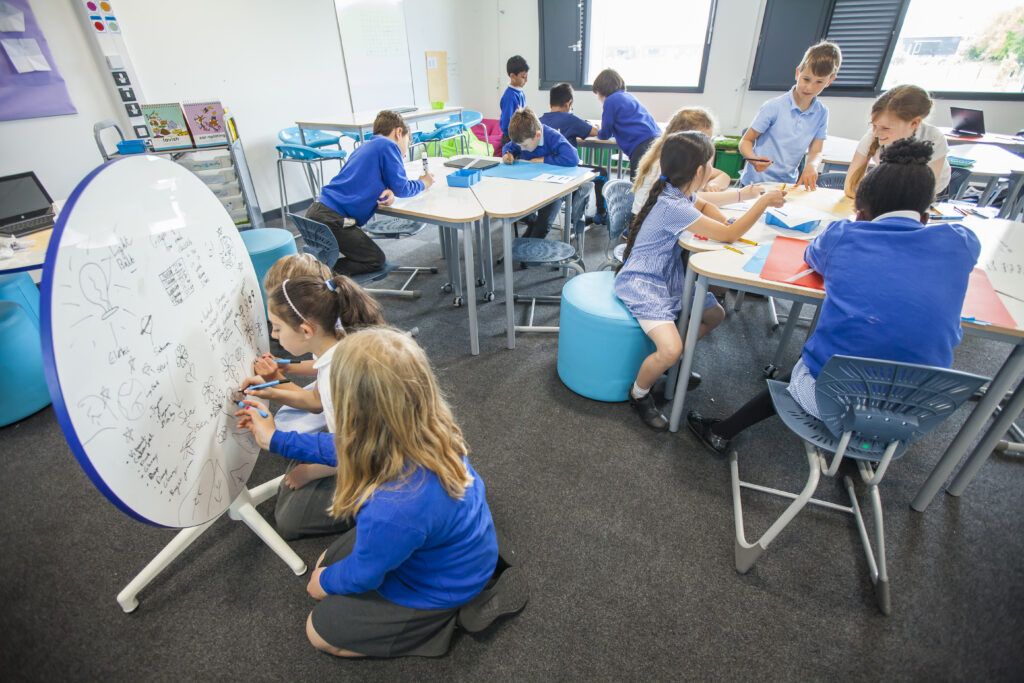 Ample Natural Light
Wherever possible, maximise natural light within the space. Well-lit spaces create a positive learning atmosphere and help reduce eye strain.
Colour and Inspirational Decor
Choose soothing yet stimulating colours for the walls and decor. Colour plays a vital role in setting the mood for learning. Hang educational posters, inspirational quotes, and student artwork to keep the classroom environment vibrant and motivating.
Sound Management
Invest in sound-absorbing materials or acoustic panels to create a conducive learning environment. Minimise external noise disturbances.
Recommended product: Acoustic writable screen
Greenery and Nature
Consider adding indoor plants; greenery can improve air quality and create a calming, natural ambiance.
Recommended product: Plant tower
Flexible Learning Zones and Seating
Create designated areas for different activities. By using flexible furniture, you can create areas for group work, individual study, and presentations. Adaptable spaces cater to various teaching methods and cater to diverse learning needs. Arrange desks or tables to promote interaction and collaboration. Provide comfortable seating, and if possible, use flexible furniture that can be adapted to different teaching styles.
Recommended product: MakerHub, Freedom Table
Promote Student-Led Learning
Create an environment that empowers students to take ownership of their learning journey. Keep teaching materials, supplies, and student work well-organised. Ample storage solutions ensure a clutter-free environment that fosters focus. Mobile storage trolleys can be moved around the classroom and positioned where students can have easy access to resources to promote student-led learning.
Recommended product: Callero Treble Trolley
Technology Integration
Embrace the power of technology with interactive whiteboards, iPads, tablets and computers. These tools enhance engagement and make learning dynamic.
A Comfortable Reading Nook
Design a cosy reading corner with comfortable seating and an array of books. Encourage students to explore new worlds through reading.
Recommended product: High back beanbags
Inclusivity and Accessibility
Design your classroom to accommodate diverse learning needs, ensuring that every student feels valued and supported. Ensure your classroom is accessible to all students, including those with disabilities. This promotes inclusivity and equality in learning.
Regular Maintenance
Keep the classroom clean and well-maintained to provide a welcoming and safe learning space.
Recommended Gratnells Products